While most people are engulfed into winters at the moment, right now is a crucial time to get started with the maintenance of your air conditioner. Sadly, most people find these things out the hard way, when there's an unexpected breakdown which leaves their home in uncomfortable scenarios. Even the utmost quality of air conditioners must be maintained regularly, ensuring that there are not any hidden signs of some future problem(s). Most are not what to expect, the reason why we've prepared a primer on AC maintenance, let's have a look.
Preventative Maintenance
Air conditioning units are just like other mechanical systems. Supposedly, take your car for an example; your car can operate for long durations of time without creating any problem for you. Until, the "check engine" significant light on the dashboard turns on all of a sudden, sometimes even out of the blue. Now that's an issue. And no solution is there as such to keep driving the car for distances, you have got to take your love to a mechanic as soon it is possible to look up things and to diagnose and solve the problem. Machines need maintenance and your air conditioner no different. It is possible for your AC to run consistently and effectively only if it is maintained on a regular. Let's not leave this article without ensuring that the chances to reduce the chances of emergency breakdown down to minimal or none. If it turns out that your air conditioner requires more than just the typical maintenance, we have listed other, professional options down below as well. Let's check some must-know things about air conditioner maintenance primarily, and then we shall move forward.
Benefits Of Air Conditioner Maintenance
Maintaining your cooling system has numerous benefits, including:
It improves the quality of indoor air: a healthier environment for our home, family is our top priority, ensuring that is a must.
Enhanced Energy Efficiency: You can save large sums on your monthly energy bills by using your air conditioner in a controlled and effective manner; we shall discuss the same later in this article.
Reduction of Carbon Footprint: If your air conditioner is capable of operating regularly without overworking, it then consumes lesser energy and is more environment friendly.
Above all, Peace of Mind: The worry to harbor the needs of a sudden breakdown or emergency repair, proper maintenance on tine eradicated that bit. Also, not to mention the fire hazards and life risks associated with the unmaintained air conditioners.
There are a few routine household chores of maintenance that pay much off more than to keep a maintenance schedule for your beloved house cooling conditioner. Not only it gives us the best chance for staying cool all summer and to avoid any emergency breakdowns, but it's also a known fact that you'll also be able to save money on your regular energy bills, for a long run.
A well maintained air conditioner unit will produce much effective cooling and would run more efficiently, this leads to lesser consumption of energy, and hence cost less money
to run. In addition to this, a properly maintained system tends to last longer before making it a necessity for you to have it replaced. Let's talk about all these aspects in detail now. Regularly check on the working, cleaning and maintenance will save you a lot of money and at the same time, it'll extend the life of the heat pump or HVAC unit. Keep the air conditioner well maintained and that will not only save you money on energy, but in addition, it'll also extend its lifespan and hence saving money on another costly early replacement. Service experts say that an air conditioner needs to be checked regularly, they need your attention to be sure that they're operating at the highest optimized efficiency.
There's always a time for everything, and have we all heard. In that contest, the best time frame to cater these tips would be the time just before the cooling season begins. That's now! HVAC, it stands for Heating, Ventilating, and Air-Conditioning system. HVAC usually consists of either a heat pump or a furnace and AC both do the same thing by the way, heating and cooling, but in different ways. Both of the types have an interior unit, namely the evaporator and the blower, and an exterior unit, called the condenser coil and the compressor. Let us see what we can do by ourselves at first and avoid spending additional amounts to pay for the service experts. These are set instructions and they apply to most of the cases, especially for a heat pump unit or a whole-home air conditioning system. We'll go stepwise and till you'd know all the things that are supposed to be done
Turn Off The Power
Due to the life threatening dangers of working near or around electricity and also because of the dynamic moving parts of the air conditioner, it
 is very important that we completely turn off the power supply to the unit, and double check the same. For the exterior part, the compressor, look for a shut-off box located on or near the unit. And in indoor systems, make sure that you turn off the power supply at the breaker box.
Remove Debris And Dirt
On the exterior part of your unit, the condenser or the compressor, remove the cage of the fan. Use a screwdriver or a wrench, to remove the fasteners and lift up the cage or the fan grill out from the top of the unit. Using hands or with a wet or dry vacuum, cleans the leaves and any other debris from the interior of your condenser/compressor.
Cleaning The Fins
Use a strong stream of water, preferably using a garden hose, spray throughout the fins from inside and out to blast away any built up debris or dirt from in between them. Make sure that you're not using a pressure washer; this is not advised as the pressure from it can damage the fins permanently. If in particular, the fins are dirty, you can always use a fin cleaning spray that's commercially available. You'll find that mostly to be available at the home improvement centers or local stores. But make sure what you need before spending by reading the manufacturer's directions.
Straighten The Fins                                                                                         
It is quite obvious that any decrease in airflow via the fins would reduce the efficiency of your unit. It's sort of a delicate task, and hence we need to be careful while straightening the bent fins. This could be made easier by using a butter knife or if you're very serious about your system, you can use the commercially available tools for fin-straightening as well. You'll have to be gentle; this is required as we have to ensure that the tubing embedded within is not damaged. The finer you can do it, the better.
The area around the unit has to be clean
Once we finish with all the cleaning, just replace the fan cage as it was before. Energy saving tip: You can take back the leaves and other forms of debris outside of the condenser and cut the back branches and any form of vegetation for at least 2 feet away in all directions. This would ensure proper and clean airflow around and eventually into the unit. During the winters, when the use of condenser is not as much, it is advised to cover the top of the unit well with a piece of some plywood or any plastic material, this helps to keep debris from falling inside of the unit unnecessarily. Anyhow, make sure that you do not completely cover the sides of the unit. This is because the moisture could build up inside and that shall lead to corrosion. Also, a completely covered unit within encourages the vermin and birds to build nests on the inside.
Do not forget to remove the covering while the unit is in operation.
Leveling Of The Unit

The pad that has the condenser on it begins to sit down over time, to tip. This happens as the soil has settled beneath it in the meanwhile. An unleveled, to a greater extent, condenser unit shall cause the compressor to fail early from within. It's important that we check the condenser and ensure that it is leveled. We can use rot-resistant shims for the purpose of bringing it back to the required level. Service experts add this as an exception if you have your unit is a heat pump system. In such a case, it is considered fine for the pad to be somewhat sloped away from the foundation of the house, this allows for the defrost run-off during the winter season.
Clean The Evaporator Coil
We're done with the tips and the tops; it is time now that we move onto the inside. On the inside there's a blower or a furnace unit. You'll have to find the door of the evaporator coil. It may so happen that you'd need to remove some of the foil duct tape and remove out a few bolts and screws before you could proceed. Once you're inside, use a soft brush or a piece of cloth to dust off the coil properly, and then spray the coil adequately with commercially available coil cleaners, no-rinse, that are commonly available at common stores. The spray will foam up and in some time drip into the draining pan.
Now we'll have to clean out the drain pan using hot water and soap. You may also add a little bleach to it for better results. Composition can be like; 50% bleach and 50% water pour about one cup of the solution down the drain. To keep the drain, clear for a longer-term, place a commercially available drain into the pan tablet in the pan. This shall inhibit future algae growth by a great extension. Now, pay attention. If the bleach solution goes off the drain easily, you can skip the next step, don't think much. But if not, let's move on to the next step. You'll have to replace the door of the evaporator coil and re-seal it using a foil or duct tape, if need be.
Cleaning Of A Plugged Evaporator Drain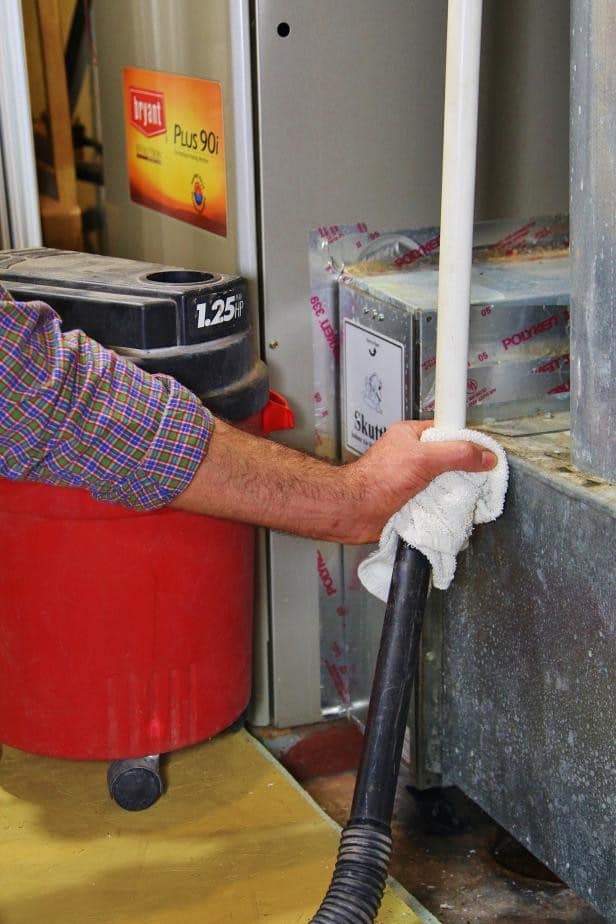 If we talk about the interior, warm and humid air from your home's interior is blowing through the evaporator coil. The cold coil absorbs heat from the air and cools it before air is circulated back to your home. The humidity that's contained in the air condenses on the cool surface part of the evaporator coil in the form of liquid water, dripping out into a pan kept below. Now from the pan, the water starts to flow into a drainage tube that is typically routed either underground or joined into a basement floor drain or utility sink. In many cases it is also drained outdoors.
Algae and mold tend to build up and grow exponentially over time. This is a threat to the well-functioning of your unit as a whole; this is as this can potentially plug the drain. It is obvious that if the drain is either choked or flowing with the proper pace that it is required to, it will need to be unplugged. And of course, that'll add to the maintenance costs.
A plugged drain shall cause damage by flooding the floor. If in case the system is already equipped with a drain float, this shall cause the system to stop any cooling and make up to avoid flooding at first.
The first thing to do, you'll have to find the drain line where it leaves the enclosure of the evaporator coil. The drain is usually comprised of a one-inch PVC pipe. This is commonly of white, grey, or black color. Now we'll have to follow it to the very end where it drains.
Often, the line that drains outside is near the condenser unit. In some cases, though, it could be so that it also drains into a utility sink or maybe into the basement floor drain. In the case units placed in the attics, they are usually down an outside wall. Once we have located, use a wet or dry vacuum to fully clear the drain. It is always the best to remove the paper filtration from the wet or dry vacuum; this is done to ensure that we do ruin the filter. Hold the hose of your vacuum at the end of the line of the drain. You can make use of a duct tape or you could just simply hold a rag around in the gap. Now, turn on the vacuum for about 3 minutes and then turn off. This would clear the drain of any form of growing biological matter into it.
Change The Blower Filter

The filtration in your HVAC system must be changed at least two times a year if you use it on a regular basis. It is advised that this shall be done once just before the summer season begins and one time before the beginning of the winter season. Particularly if you live in a dusty area, you would want to change it more often than twice. While replacing an air filter, always make sure that you replace the filter with a filter that has the same or a comparable airflow rating. Experts say that we have been to very be careful with the 'air purifying' or the HEPA filters, as they can account for dramatic reduction in the airflow in the system, which in turn, can cause the indoor coil to freeze due to the reduced airflow. Next, we have to locate the filter enclosure somewhere on the indoor furnace or the air conditioner, where there is large fresh air returning, duct enters the unit. For this you may require a screwdriver to turn the latch to open the door for the purpose of the filter enclosure. Now simple as it sounds, just remove the old filter and place the new filter into the same fashion. Make sure you match and make up the same airflow direction arrows on the filter as with the arrows on the unit. We're all done now, close and latch the door properly.
Turn On The Power

These steps shall help you to keep your air conditioner system in top shape.
But please be aware of the fact that there are certain maintenance aspects that only a trained HVAC technician would be able to do. Take for an example, a tiny refrigerant leak in your air conditioning system can lead to failure of your expensive compressor. But a homeowner usually does not have the required tools or skills that are necessary to check refrigerant levels. Also, the clean ducts and a proper airflow are very essential to a well-functioning air conditioning system, but it's only pertaining to say that a homeowner shall lack the necessary equipment that is for the job.
The rock bottom? While some maintenance aspects could easily be fulfilled by a savvy homeowner, it becomes necessary to have an expert technician check the system periodically. Reason why, we've assembled a list some of the best options in Vadodara for you to have a quick access and ideas about the expenditure and receive and instant quote over the phone itself.
Folks, having a descriptive knowledge before spending on any electronics or its maintenance are always useful for taking an informed decision for the best use of our money. Now that we're equipped with such information, let's look up for the places in Vadodara where we shall contact for best services.
Patel Service, Sayajigunj
AC Repair Services, AC repair & services
Contact: +91 96875 87883
Online description: Patel services offer complete, custom home comfort services specifically designed for you and your family and our operations are performed by our trusted furnace and air conditioning contractors. Patel Services have worked hard in the market since past 10 years to help you breathe fresh at your home/office or possible place. We aim to bring all your favorite brands including Samsung, LG, Hitachi, Daikin, Sony, Voltas, Onida, Whirlpool, Panasonic, Godrej and many more for home appliances like Air Conditioner, Fridge etc. at your doorstep.
Hi – Tech Engineers, Sayajigunj
AC Repair Services, AC repair & services
Online description: We, Hi Tech engineers, repair Services and AMC contractor in Vadodara (India). We're backed with a team of dedicated professionals. We have been able to provide our customers with the best of services for various brands of Air-conditioning Systems this range of products includes Voltas AC, LG AC, Mitsubishi AC, York AC and Hitachi AC, Carrier AC, AC, Haier Panasonic AC. Apart from this, we also offer Cassette AC, Duct-able AC and Precision AC's.
AC Repair Services, 

AC repair & services




Contact: 

+91 265 3095588


Online description:

Atlas Aircon offers Air conditioner repair service in Vadodara, Gujarat, India Repairs of Air handling units, Air conditioners and heating equipments, HVAC System, VRF System and Dryers. We ensure the best quality standards and delivered by us as expected by the customers. We are the one of the most trusted names in the market for over 20 years now for the Air-conditioner Service Contractor in Vadodara, Gujarat, INDIA.

We provides Annual Maintenance Service Contract for Air Conditioner – Window, Split , Ductable of all brands, Cassette, Panel, AC AMC for office, spilt ac repair, window ac repair, slimline ac repair, cassette ac repair, new ac installation, ac repair services in Vadodara, ac service center in Guajrat, ac repair in Anand, ac maintenance, ac installation, ac repair in Vadodara ac repair Alkapuri, ac service and repair Dahej, AC on rent in Vadodara, ac repair and services in Vaddoara, AC maintenance, old ac installation, ac repair in Gujarat.
4)   Monali Home Appliances, Choksi Bazar
AC Repair Services, AC repair & services

Online description: Monali Home Appliances have tied knots with the renowned vendors of the industry for procurement of quality products. We choose our vendors before putting ample thought into it and we take the basis such as on their past experience, financial stability and credibility. Our vendors are dedicated and provide with the help on time of delivery of the products. Further, they are most of the times chosen based on their previous records.
Backed by our partners, who also happen to be industry's renowned vendor, we are able to fulfill all the diverse needs and requirements of our every client. We are in touch with our customers through quality, performance, service and assistance. Bringing the best value to our customers, we also care as much about our customers. We value the trust and the beliefs vested in us by our clients and the professional contacts and strive to provide a dedicated service with a pure, honest and direct approach in all our dealings.
Other Listings:
Ø  Cool Care, Dabhoi Road
Ø  Om Engineers, Ellora Park
Ø  Comfort Air Conditioning, Sayajigunj
Ø  Shiv Refrigeration, Subhanpura
Matter of fact, your home is the one place you should breathe easy and feel the most comfortable in, above all else. Your heating, cooling and air quality equipment is what ensures your home's comfort, every day. So, what are you waiting for? It's the right time to buy a new air conditioner or get your old one fixed. We save in thousands by staying ahead, even if we're racing with the season.